Giving Thanks and Giving Back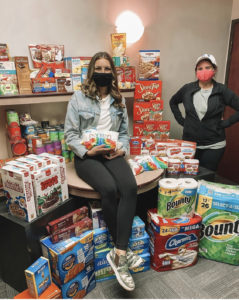 This Thanksgiving, JLT Members in our Street School Culinary Club worked to stock the Street School food pantry so families could enjoy a hearty Thanksgiving meal together. Project leaders Madison Kroll and Caroline Heineck (pictured left) successfully gathered all of the fixings for a delicious Thanksgiving meal and then some! Hundreds of items were donated by JLT Members, including food pantry staples, such as canned goods and cereal, as well as, much-needed items like paper towels, toilet paper, and feminine hygiene products.
Street School President & CEO, Lori McGinnis-Madland, Ed.D., expressed her gratitude for the generous donation by saying, "Our families were elated to be provided groceries to prepare a Thanksgiving meal. They were so grateful, as are all of us at Street School."
Street School Culinary Club Chair, Ashley Cockerham, says "The Thanksgiving meal part of this was a huge success, and we are now working to stock their entire pantry even more in preparation for the Christmas holiday break."  If you are interested in donating to help stock the Street School food pantry for the holidays, donations can be dropped off at any of these JLT Member-owned businesses during their business hours or by contacting Caroline Heineck (caroline.mccaleb1@gmail.com) or Madison Kroll (madisonkroll@ymail.com). 
Drybar Tulsa (1520 E 15th St, Tulsa, OK  74120)
The Collaborative (

4532 E 51st St, 

Tulsa, OK  74135)

Big Baby Rolls (

3739 E 11th St, 

Tulsa, OK  74112)

Big Whiskey's (

4532 E 51st St, 

Tulsa, OK  74135)

Brownie's Hamburgers (

2130 S Harvard Ave, 

Tulsa, OK  74114)