Meet the President: Jennifer Porter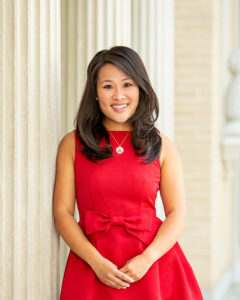 Jennifer Porter is the 2019-20 Junior League of Tulsa (JLT) President. Porter was born in South Korea and moved to the United States at just 2-months-old where she grew up in Locust Grove, Oklahoma. Jennifer is an energetic, loyal, and dependable person who loves to travel, eat, and be with family and friends. After working as Executive Director of the Oklahoma Chapter at the Arthritis Foundation for two years, she was recently promoted to the organization's Director of National Teams position. Her time with the Arthritis Foundation has given her a unique view of community engagement in Tulsa and has helped transform her into an outstanding leader for the Junior League of Tulsa.
Jennifer joined JLT in 2011 to connect with women leaders and learn how to become a better leader in the community. Her best Junior League memory is meeting her future Matron of Honor and best friend during her Provisional Retreat. She has served on the JLT Board of Directors in several capacities including Communications Council Vice President and Membership Programs Vice President. She says that these leadership experiences helped shape her as a person and a leader. "It is a true honor to serve as President," she said. "To be in this role surrounded by hundreds of strong women leaders is truly inspirational. It motivates me to be better in League, at home, and in my work." 
Porter has also served in leadership positions on the Holiday Market Committee, Philbrook MyMuseum Mobile Committee, and gusher, which she calls her favorite placement (besides serving as President) because it allowed her to use her background in publishing and editing while working on a deadline. She says that the members of JLT are what make it a wonderful organization, "Without our women leaders, there is no Junior League." 
During her time as President, Jennifer wants all members to feel welcome and included. Her advice to Provisional members who are just beginning their League experience is to stay engaged with everyone in JLT as much as possible, saying, "Participate in as many things as you can. The more you are involved, the more you will be able to appreciate the full breadth of what Junior League has to offer." 
Porter has set firm goals for the League during her tenure as President. She hopes to grow JLT's signature fundraisers – Mentorship Luncheon and Gem Gala – and enhance Tulsa's view of JLT as a "community's best friend." From her point of view, the Junior League is not just a community organization, it is a training organization. "Everything we do helps train women to be the most effective leaders in our community. Effectively trained women leaders cannot only change people but communities," emphasized Porter.