Meet the Board 2019-20: Maggie den Harder, Strategic Planning & Research Chair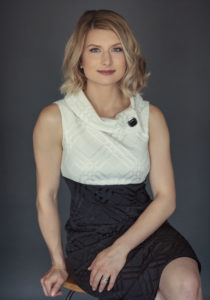 Maggie den Harder is the 2019-20 Junior League of Tulsa (JLT) Strategic Planning and Research Chair. Maggie is originally from Seattle and currently works at Healthy Minds Policy Initiative. She joined JLT five years ago,  "I wanted to become a little bit more involved in the community and get to know and work alongside people a little more to consistently to make change in Tulsa," said Maggie. 
In reflecting on her membership experience, Maggie says JLT has surprised her in a positive way, "That was one of the things that I wanted but didn't really realize that I wanted at the time —  to be able to have some close girlfriends. I come from a big family and so I always had a couple of close friends, but I also was really close with my siblings. Since they are in another state, I was missing that a lot here."
As Strategic Planning & Research Chair, Maggie oversees the appointed council liaisons and gathers feedback and information for JLT's strategic planning, which is revised every five years. She coordinates the 2019-20 Strategic Planning survey that League members filled out, analyzes the results, and advises the Board of Directors on implementing suggested initiatives.  
Another way the Strategic Planning & Research committee collects information is through JLT's annual Speak Outs. "Every year, we gather feedback on how members feel the League year is going," she explained. "Then, I report the speak out results at the annual board of directors retreat." Maggie went on to explain that the goal is to see what changes can be made immediately. Most issues do not have a quick fix, but there are often a few things that are relatively easy changes to make. 
The League's community advisory board (CAB) is also managed by the Strategic Planning & Research Chair. Maggie explained that she is working to revive it, "A Community Advisory Board can be helpful to provide some insight as to how other organizations are doing things and to make sure we are out in the community and not missing something that we are conveying the type of message that we want to convey." 
In the 2020-21 League year, Maggie will once again serve on JLT's Board of Directors as Community Programs Vice President, turning her focus on the organization's external efforts in Tulsa.