JLT Provisionals Shine at Retreat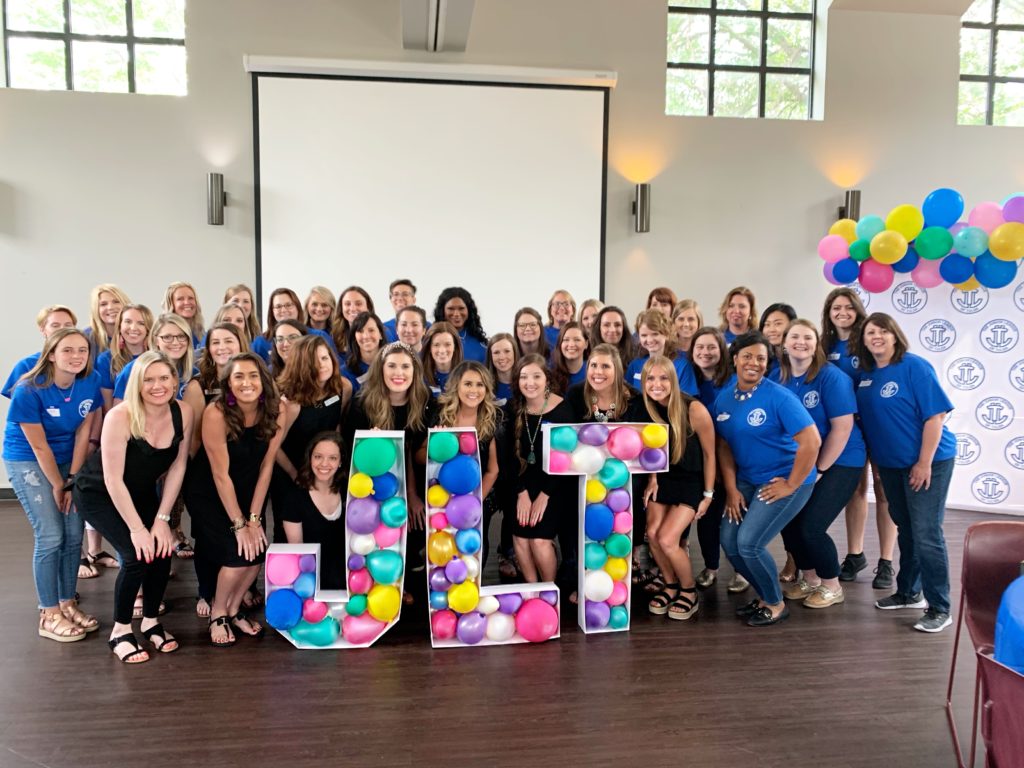 The Junior League of Tulsa (JLT) headquarters was glittering with excitement for the 2019 Provisional Retreat on Saturday, June 22, 2019. The scene is set for the new group of more than 45 Provisional members to truly shine in their commitment to JLT and the Tulsa community. In keeping with this year's theme, "She's a GEM," the day featured lots of jewels and sparkle. The retreat included a wealth of JLT information and a bus tour of several Junior League community programs with a stop at Tulsa Community College to learn about Food onthe Move and lunch at Take 2 Cafe downtown with Resonance Executive Director Deidra Kirtley.
Ashley Whitby, 2019-20 Provisional Chair, focused the retreat programming on educating the Provisional class on all things League, from the lingo to organizational structure and history, hitting on all the different aspects of JLT. Whitby and her committee have a full schedule planned for the year that includes learning from previous JLT leaders. "We have several socials and events that will involve our Sustainers. We have a long line of powerhouse women that came before us and made this organization what it is today. We really want to show our appreciation for paving the way for us and give the Provisionals opportunities to connect with and learn from Tulsa's best ladies," Whitby said. 
The Provisional Vice-Chair, Laurie Nation, noted, "Ashley and I really wanted to create an exciting day for Provisional members to come and meet new friends while learning about every aspect of JLT. There is so much information to cover, but we wanted to create a day that was fun as well as informative. I've been involved with Membership Council for a few years now, so getting reminders and information about how JLT is 'a community's best friend' was helpful for myself, an active member."
Provisional member, Sara Gomendi, shared that she was looking for ways to meet like-minded women in order to build friendships and business relationships. Sara has lived in Tulsa for several years after moving from Wyoming and opening her own holistic wellness practice. Sara joined JLT because she wants to be more involved in the community. "JLT is able to combine the voluntarism, networking, and leadership development all in one place, and I knew this was the right fit for me!" 
Likewise, Ashton Yancey, Senior Specialist for Walk MS, was looking to connect with others and meet new people after a few years living away from Tulsa. In looking back on the retreat day, Ashton remarked, "It was a great day, and I felt welcomed immediately. I am excited to get placed and get started!" 
During the afternoon portion of the retreat, Provisional members learned about the different committee placements they can serve on during their first year including, gusher, Gem Gala, Mentorship Luncheon, Street School, Community Food Bank of Eastern Oklahoma, and more.   
Provisional Liaisons for 2019-20 include Erin Burgess, Mattison Carter, Ashley Dixon, Stephanie Forrest, Rachel Palmer, Dawn Pevey, Amanto Pitcock, and Christy Reis. Liaisons help to lead small groups of Provisional members as they navigate their first year of JLT involvement. 
The traditional Provisional project is taking on a new look this year under Whitby's leadership. "In the past, Provisionals have worked on a single community project or multiple smaller community projects to complete their Provisional project obligation. This year, they will have the opportunity to not only assist our community partners, but they will also plan and fully execute two smaller JLT fundraisers!," said Whitby. "We wanted to give them the opportunity to have some hands-on experience in all the different elements that make up our League." The first Provisional project fundraiser will be the JLT Trivia Night on October 4. 
If you are interested in joining the Junior League of Tulsa, please contact the League at joinjlt@jltulsa.org.