In Memoriam: Frances Herndon Chandler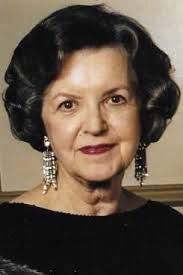 Former Junior League of Tulsa (JLT) President and devoted community volunteer Frances Herndon Chandler died on September 2, 2016 in Tulsa, Oklahoma.  
Chandler's obituary in the Tulsa World (found here) mentioned she began a drive during World War II selling over $750,000 of war bonds, winning her national recognition.  It spoke of her dedication to her family, church, community, and friends, as well as her creative and artistic endeavors:  "She loved to write poetry and short stories and produced and performed in comedic and dramatic "Two Women Shows" with longtime Tulsan, Isabel Simmons. …She was held in high esteem by her family and many friends for her ever ready laughter, her brilliant mind, her quit wit, her loyalty, and her thoughtfulness."
Chandler's daughter, Cathy Keating, a Sustainer member of the Junior League of Oklahoma City, tells Gusher Online, "Mother was a modern day Renaissance woman.  Always a lady, she balanced the love of and duty to family with a firm commitment to lifting up others. The League provided her with an outlet to give back in the early years of her adult life which over time transformed into creative and engaging leadership skills.  The Junior League of Tulsa served as her launch pad for community leadership positions, and she remained loyal and committed to the organization throughout her life.  In her sunset years, it was the JLT that gave mother special satisfaction that she had made a difference in her life, and the League reinforced that when they honored her at their 90th birthday celebration."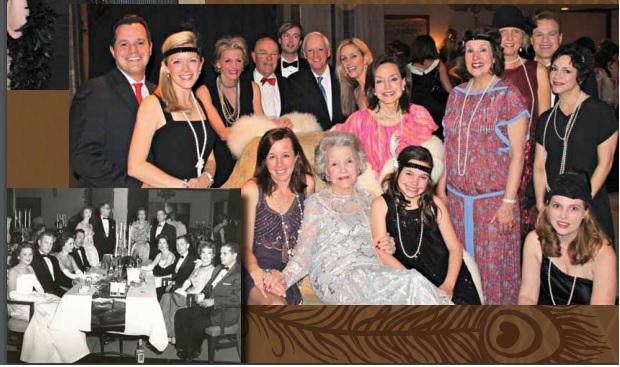 JLT honored Mrs. Chandler at its 90th anniversary Pearls and Prohibition Gala, calling her "one of Tulsa's most celebrated volunteers and activists." Pictured in the bottom left corner, from the Spring 2013 gusher, is a 1962 dinner dance hosted by Chandler for JLT held at Southern Hills Country Club.
Editor's Note: To capture the eloquence and grace of Mrs. Chandler, we have included the following items:
poetry written by Mrs. Chandler, shared by her daughter
MY ROLE MODEL
By Frances Herndon Chandler
She's up she's down, she's in she's out
She never seems to stop
Her whirlwind life is so much fun
Her joy just seems to pop
But 'round the town you see her fly
With goodness on her mind
Because the things she does so well
Are thoughtful and so kind
So here's to those whose deeds are good
Whose thoughts are on another
I hope that I am just like her
I may be- she's my mother.
A Tulsa People article from 2008 sums up the spirit of Mrs. Chandler:
Frances Herndon Chandler once owned eight pairs of white gloves, including kid gloves for the evening and cotton gloves for the summer…the gloves were a staple in her daily wardrobe, as most women of her generation kept many close at hand…
But when it came to volunteering, this Southern woman and native Tulsan, who is 84, took them off to dig into the work of improving Tulsa.
Her hazel eyes twinkle as she fingers through layers of sparkling beads and cascading fabric of the ball gowns she holds in her dainty hands…she's saved [them] from memorable evenings spent with fellow members of the Junior League.
"The League was a wonderful time in my life," she says, pulling the dresses close to her.  "It was a place to serve and give back to community and have fun."
As a member of the League for more than 60 years, including a year as President, Chandler represents everything the organization has instilled in its members for the past 85 years – a dedication to volunteerism and a heart for service…
And as Chandler's once-white gown and gloves turn to a cream color, her memory of the Junior League remains as vibrant as ever.
"The Junior League of Tulsa was full of bright lights for all of us," she says. "We stretched and we grew.  We made friends. And we had fun. I do love the League and what is stands for and I always shall."