Please join us for the annual Gem Gala benefiting all community projects led by the Junior League of Tulsa.
Event Details
Saturday, April 22, 2017
Under the stars at the Tulsa Historical Society
VIP Cocktail Hour 5:00 PM
Gem Gala Live Auction & Dinner 6:00 PM
After Party 9:00 – 11:00 PM
We hope that you will consider a sponsorship of this annual event. Not only will you be helping the Tulsa community by contributing to the Junior League of Tulsa community projects (JLT members volunteered over 40,000 hours in the Tulsa community last year), but you will also be gaining exposure to those in attendance at the event as well as our membership. Become a Sponsor today!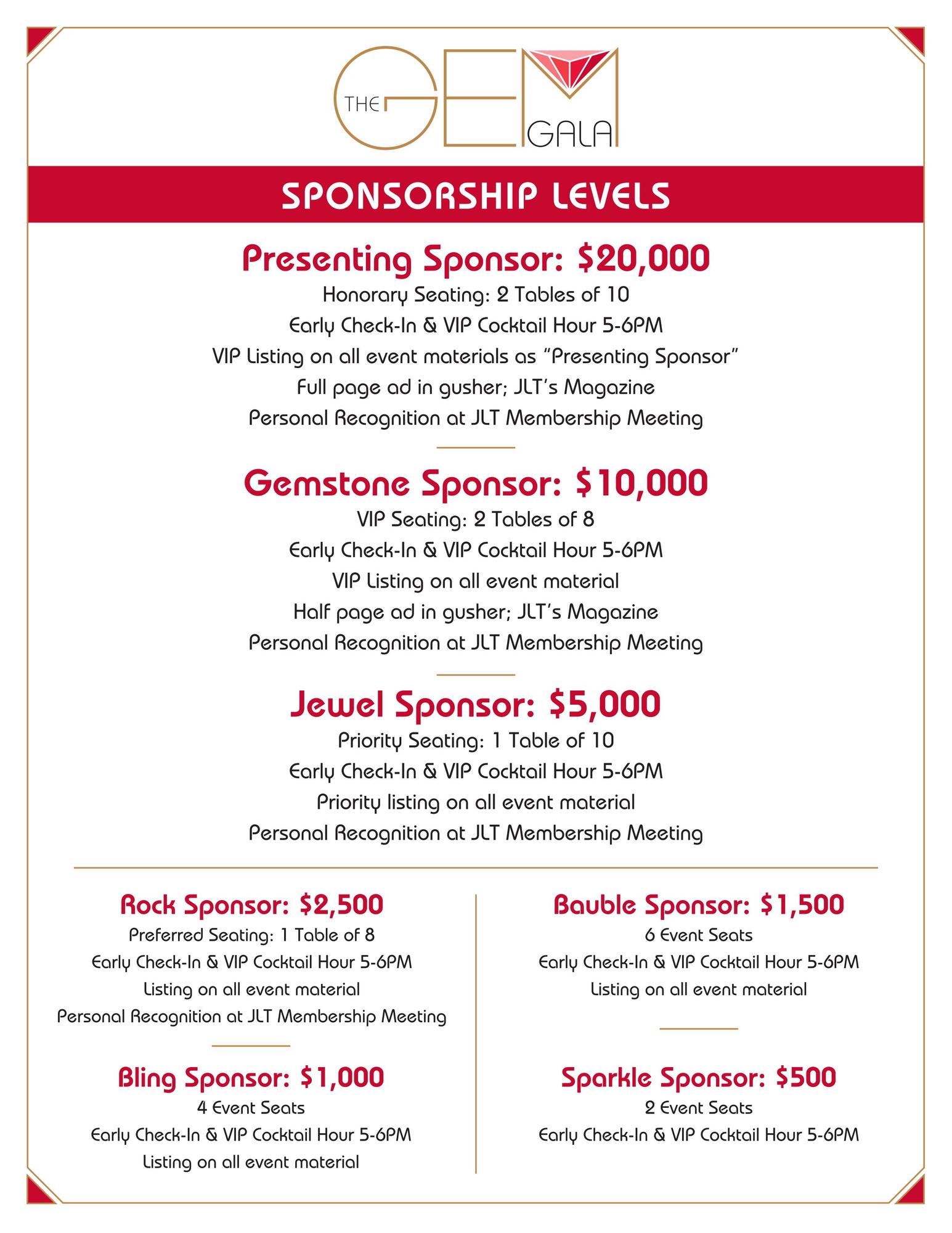 Sponsorship Opportunities
$20,000 – Presenting Sponsor
Honorary Seating: 2 tables of 10
Early Check-In & VIP Cocktail Hour 5pm-6pm
VIP listing on all event materials as "Presenting Sponsor"
Full page ad in Junior League of Tulsa magazine, gusher
Personal recognition at Junior League of Tulsa General Membership Meeting
$10,000 – Gemstone Sponsor
VIP seating: 2 tables of 8
Early Check-In & VIP Cocktail Hour 5pm-6pm
VIP listing on all event materials
Half page ad in Junior League of Tulsa magazine, gusher
Personal recognition at Junior League of Tulsa General Membership Meeting
$5,000 – Jewel Sponsor
VIP Seating: 1 table of 10
Early Check-In & VIP Cocktail Hour 5pm-6pm
VIP listing on all event materials
Half page ad in Junior League of Tulsa magazine, gusher
Personal recognition at Junior League of Tulsa General Membership Meeting
$2,500 – Rock Sponsor
Priority Seating: 1 table of 8
Early Check-In & VIP Cocktail Hour 5pm-6pm
Listing on all event material
Personal recognition at Junior League of Tulsa General Membership Meeting
$1,500 – Bauble Sponsor
6 event seats
Early Check-In & VIP Cocktail Hour 5pm-6pm
Listing on all event material
$1,000 – Bling Sponsor
4 event seats
Early Check-In & VIP Cocktail Hour 5pm-6pm
Listing on all event material
$500 – Sparkle Sponsor
2 event seats
Early Check-In & VIP Cocktail Hour 5pm-6pm