The Junior League of Tulsa (JLT) welcomes the new class of Provisional members at its 2017 Provisional Retreat, which was held at JLT's headquarters on June 24th. The 2017-2018 Provisional class was welcomed with a room full of baseball gear and cracker jacks to compliment the retreat theme of a "League of their Own." During the retreat, the Provisionals were introduced to the JLT values and goals, as well as many of the committees.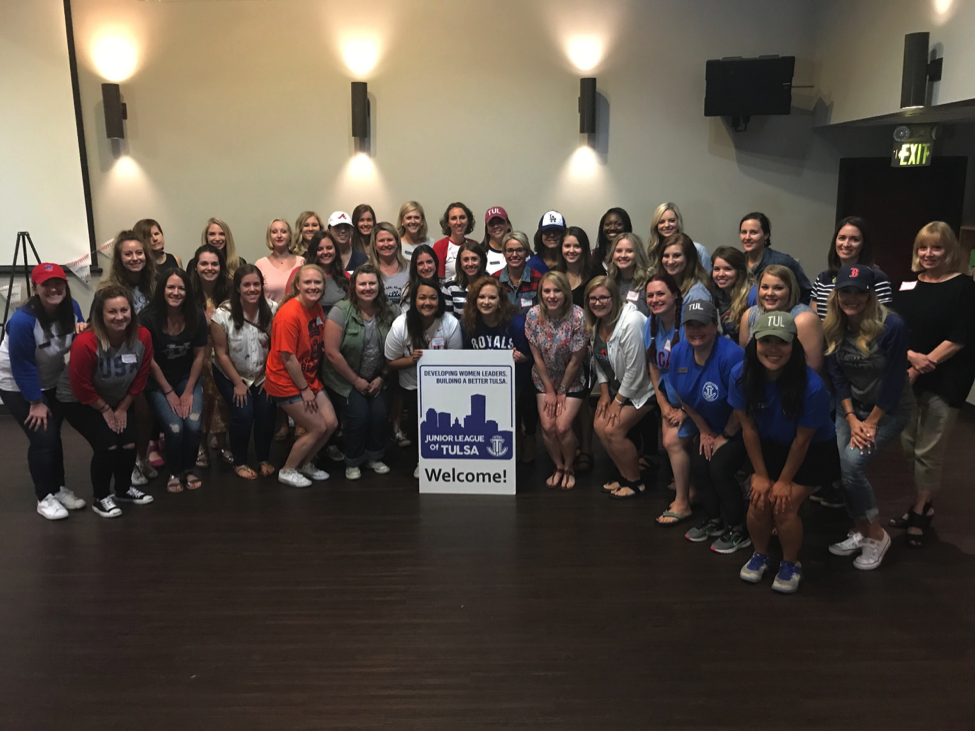 Allison Holt, Provisional Vice Chair, was instrumental in planning the day of development for the Provisional members. "The goal for our incoming Provisionals is constant and transparent communication and engagement… We want all of the Provisionals to know to that we value them and their commitment to the Junior League of Tulsa. We want them to feel connected and engaged throughout the year and know that they are important and invaluable to the Junior League of Tulsa," says Holt.
The new Provisional class is approximately fifty women who come from a wide variety of backgrounds.
2017-18 Provisional Class Members:
Jamie Adams
Kelsey Armstrong
Jessica Baker
Rhiannon Baker
Charlotte Clegg
Erin Cole
Jami Cole
Anne Daniel
Julie Davis
Lizzie DiSilvestro
Mary Fielding
Stephanie Forrest
Carson Glass
Rachael Gotcher
Katherina Grauberger
Brianna Graves
Andrea Hancock
Mary Hastings
Mallory Hawkins
Jessica Heiser
Vanessa Hicks
Natasha Hnizdo
Sarah Holman
Thalia King
Gajal Kumar
Stevie Langley
Tiffany Lemons
Raye Leonard
Bridget Lienhard
Terri Lowell
Taylor Manes
Caitlin Martin
Danielle Mays
Rachel Mix
Sarah Nugent
Katherine Opila
Eva Patterson
Taylor Perkins
Katherine Rear
Madison Reichert
LaToya Sales
Katherine Sandmoen
Victoria Schulz
Leslie Snider
Ylenia Summerfield
Erin Summersgill
Ashley Thalken
Terry Thompson
Elizabeth Warren
Tricia Weis
Megan Wertz
Kathryne Willman
Jenny Young