10th-Annual Holiday Market Set for November 6–8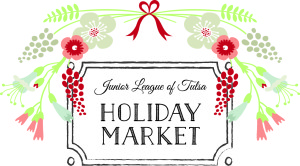 The Junior League of Tulsa (JLT) is bringing a dose of holiday cheer to town November 6–8, 2015, with our 10th-annual Holiday Market at the Exchange Center at Expo Square (4145 E. 21st Street, Tulsa).
The three-day shopping event provides attendees with the opportunity to get a head start on holiday shopping, as well as support JLT's community projects. With a goal to raise more than $120,000, the Holiday Market committee is anticipating more than 105 merchants this year.
"We actually have more new merchants this year than we have had in the past," says Holiday Market chair Brooke Sturdivant. "It's exciting. We have everything from men's and women's apparel and beauty items to gourmet food to kid's clothing and holiday décor. Some of our returning merchants include This Old Belt, Isabella's, Posh, and Dinx & Gracie."
Holiday Market will be open to general admission Friday, November 6 from 10:00 a.m.–6:00 p.m.; Saturday, November 7 from 10:00 a.m.–6:00 p.m.; and Sunday, November 8 from 10:00 a.m.–4:00 p.m. Tickets are $6 and are good for the entire weekend. Children ages 12 and under are admitted free of charge.
Special Events
Christmas and Croissants
Holiday Market will kick off on November 6 at 9:00 a.m. with its Christmas and Croissants event, which is sponsored by Kendra Scott this year. Including bottomless mimosas and a brunch buffet, the event will feature special guest speaker Ally Carter. An Oklahoma native, Carter is the New York Times bestselling author of the Gallagher Girls series. Barnes & Noble will have a pop-up shop where attendees can purchase books by Carter, and she will be available for autographs.
Additionally, Kendra Scott will hold a jewelry pull that will begin during Christmas and Croissants. For $50, an individual will be able to select a wrapped package containing a piece of Kendra Scott jewelry.
Tickets for Christmas and Croissants are $40 and include admission to Holiday Market for the entire weekend.
Military and Teacher Day
JLT will recognize military personnel and teachers during market hours on Saturday, November 7 by providing complimentary admission to military personnel and their families, as well as all educators, administrators, and school personnel with an applicable ID.
Cookies with the Clauses
The final day of Holiday Market will include a special visit from Mr. and Mrs. Claus. From 1:00–3:00 p.m. on Sunday, November 8, Mr. and Mrs. Claus will be on hand to decorate cookies and take pictures with children in attendance. Tickets are $10 to decorate a cookie and $10 for a picture with Mr. and Mrs. Claus.
Purchasing Tickets
General admission tickets and tickets for special events can be purchased at the door or in advance at www.jltulsa.org. All proceeds benefit the Junior League of Tulsa and our mission to end the cycle of poverty in Tulsa.