Where Are They Now? – Nancy Bolzle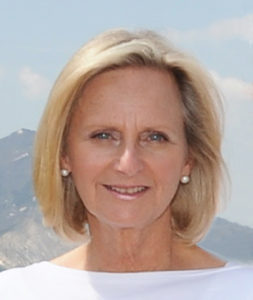 Former JLT member Nancy Bolzle currently serves as Executive Director of The Pencil Box.
What League placement do you feel had the biggest impact on your leadership skills?
Without a doubt, my Junior League of Tulsa placement on the Child Abuse Network Committee from 1987 to 1990 had the biggest impact not only on my leadership skills, but also my life. In the summer of 1988, the JLT Executive Committee asked to me be the Child Advocate for CAN. My assignment was to go to the Oklahoma State Capitol during the 1989 Legislative Session to write and pass legislation creating the multidisciplinary approach to investigating child abuse, the Oklahoma Office of Child Abuse Prevention, and the Oklahoma Chief Medical Examiner for Child Abuse. Funny thing was, none of us really knew what a "child advocate" did at a state capitol, and I had no experience in the legislative process. But that didn't stop us, and with the generous help of incredibly gracious state legislators and legislative staff, we secured all three measures during the 1989 Oklahoma Legislative Session.
How do you feel your League experience has impacted your career or influenced your professional and personal endeavors?  
One thing led to another, and after five years of volunteering on behalf of families, children, and education at the Oklahoma State Capitol, I transitioned the relationships and know-how I garnered as a volunteer to become a governmental relations consultant. As a contract lobbyist, I represented a wide range of clients including aviation, concrete, education, finance, insurance, a mental health residential facility, a private hospital, public television, public safety, retired educators, telecommunications, and trucking.
These experiences taught me that, with conviction and determination, anything is possible. They taught me how to fundraise and about marketing, public relations, and public speaking, and they gave me the personal confidence to make things happen. These experiences threw me out there, where I learned by doing. And, they gave me access not always available.
Volunteering through the Junior League opened doors and allowed me to make truly incredible, lifelong friendships within our community and throughout the state and country. Most of all, volunteering as the CAN advocate allowed me the opportunity to make a systemic difference, to stop the hurt and begin the healing for young victims of abuse. Now, my own children are volunteering and making huge differences in their communities.
What advice you would give to someone considering joining the Junior League of Tulsa?  
The Junior League can be a great training experience. My advice to someone considering
joining the League is to maximize those training opportunities and seek placements that push them to reach beyond, learn new skills, and do things they never thought they would.  
Is there a specific person in League who you feel had a positive impact on you? Please tell us about them.
While there were many League members who had a positive impact on me as an active League member. The CAN co-chairs, Jan Thompson Creveling, Ginny Creveling, and Genie Shannon; the first CAN advocate, Debi Graham Friggel; my 1988 Placement Advisor, Margee Filstrup; and the 1988 League President, Karen Davis, had the greatest impact. They saw something in me I had not – the ability to go to a state capitol and influence lawmakers and make a difference. They gave me an opportunity that changed my life forever.
The Junior League of Tulsa continues to impact my life today. When I decided to create The Pencil Box, a free store providing school supplies for disadvantaged students, I went to the League. As the provisional project for the League's 2014 and 2015 provisional classes and an Impact project in 2016, League members helped me begin the effort of collecting and giving away school supplies to needy Tulsa County students. The Sustainers also held a school supply drive in 2016. Several active and sustaining members volunteer regularly with us, including Alison Wade, a JLT past president who serves on our Board, and Leslie Frazier, a former League board member, who chaired our 2017 fundraiser with several League members on her committee. Sustainer Ellen Fuller is a past volunteer and Sustainer Tammy Deisenroth currently volunteers weekly assisting teachers when they come for supplies. Several League members' children have donated school supplies in lieu of birthday gifts. Other members drop off supplies periodically. Several League members have encouraged their businesses to support The Pencil Box. Still today, so many of my friends I met through the League. The relationships and skills nurtured and developed through the League truly do transcend time and space. Together, we are making a difference.