Meet the Board 2019-20: Darci Newell Hoff, Membership Program Vice President
Darci Newell Hoff, the 2019-20 Junior League of Tulsa (JLT) Membership Program Vice President, joined JLT in 2014 because she was new to Tulsa and wanted to get involved in something community based, but also wanted an opportunity to meet and make friends. She works as a Language Arts Specialist for Union Public Schools where she provides reading intervention for Kindergarten through 3rd grade at a Title 1 campus.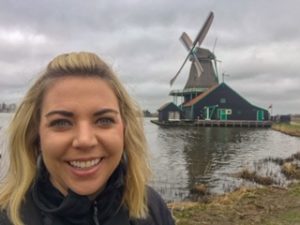 When she isn't working, she is traveling, reading and hanging out with "The Lady Gang."  Darci describes herself as organized, the life of the party, and caring, and says that someone might be surprised to learn that she has degenerative hearing loss and wears hearing aids as well as that she is an introvert.  Darci wants people to know that JLT isn't a snooty, "pinky up" selective group. "JLT is diverse and welcoming and really makes a significant impact on our community, " said Darci. "Every single member is so talented and amazing. It's humbling to be a part of JLT."
Darci's primary goal for the 2019-20 League year is to have a strong, diverse and large Provisional Class for 2020-21. This starts with the 2019-20 Provisional Class having high retention and a great experience and offering a variety of times and locations for 2020-21 Provisional Class recruitment events. Darci also wants to be accessible as a Board of Directors member and support as many different projects and events as possible throughout all of League, not just what falls under Membership.
The Membership Program Vice President manages membership satisfaction within JLT and reports directly to the Board of Directors. Darci works with all the committees under the membership umbrella: recruitment, Provisional membership, social and hospitality, member development and sustaining members. Darci has served on a variety of JLT committees including Holiday Market, Social Committee, Community Council Assistant, and Resonance: Choosing 2 Change. Her favorite placement was with the Social Committee. It was her first year an active member, and she was vacillating about staying in League. Her year on the Social Committee got her involved and was the year she started making close friendships. "I am forever grateful for that year, the experiences and those ladies," she remarked.
Darci Newell Hoff's favorite JLT memory is the December 2019 GMM when her 2019-20 Board of Directors position as Membership Program Vice President was announced, as well as every Holiday Lights Tour she has attended in the past four years.  
Her advice for members is to "diversify your involvement and placements; if one year you are in a community outreach committee, switch it up the next year. If one year you don't really like where you are placed, then reach out and get that changed or change it for the next year. You have the power to make your league experience as positive and impactful as you want."