JLT Hosts Eighth Annual Mentorship Luncheon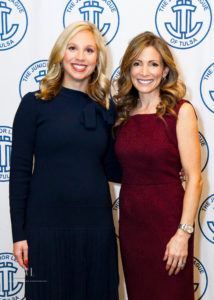 The Junior League of Tulsa hosted its eighth annual Mentorship Luncheon on Friday, January 31, 2020 at Southern Hills Country Club. More than 270 guests heard from U.S. Olympic Champion Shannon Miller about her gold medal mindset and experiences on the U.S. Olympic gymnastics team and battling ovarian cancer. Miller is the most decorated U.S. Olympic gymnast and is the only female inducted into the Olympic Hall of Fame two times – as an individual in 2006 and with her team in 2008. She won five medals at the 1992 Olympics in Barcelona, Spain, making her the most successful athlete of any sport on the U.S. National Team that year. In 1996, she led the Magnificent Seven to the first-ever U.S. Women's Gymnastics team gold medal and captured individual gold on the balance beam, another first for America. 
"Shannon was truly an inspiration to learn from! Despite her incredible achievements, she was humble, genuine, and kind to everyone in attendance," said Meredith Bartlett, Mentorship Luncheon Chair. The morning also featured a VIP reception with Shannon Miller before the luncheon began and a raffle that featured four exciting packages for winners to shop, recharge, and enjoy some family fun.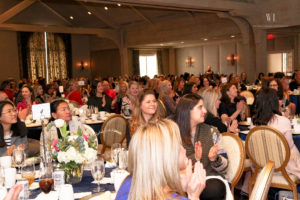 The 2020 luncheon marked an opportunity for the Junior League of Tulsa to recognize its annual scholarship recipients. Proceeds from the luncheon help the League's scholarship program and support its mission of training and developing women leaders and effective community volunteers. The Scholarship Committee awarded two Founders' Scholarships to graduating high school women who demonstrate an exceptional commitment to academics and voluntarism, as well as two Mrs. W. Albert Cook Scholarships to nontraditional students. The 2020 Founders' Scholarship recipients are Madeline Addis and Vung Lian. Addis is a Union High School senior who has been accepted to Colorado School of Mines, where she plans to pursue a degree in chemical engineering. Lian is a Jenks High School senior and is a Distinguished Service Graduate having completed more than 222 volunteer hours. Shannon Fincher and Leslie Mattax received the 2020 Cook Scholarship. Both Fincher and Mattax are balancing education, motherhood, and full-time employment, and will be pursuing graduate studies at OU-Tulsa.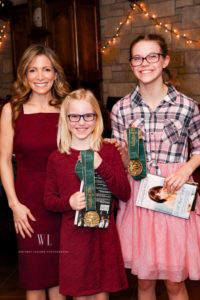 In reflecting on her Olympic experience, Miller shared her four steps to a gold-medal mindset: setting goals, working as a team, staying positive, and committing to excellence. Miller encouraged guests to visualize their successes as positive thinking can help anyone achieve their goals. "You cannot go wrong with a positive attitude," she continued. "A negative attitude is one of the worst things you can have as a teammate or an individual, but it is one of the easiest things to fix!" 
Miller also discussed her diagnosis of ovarian cancer at age 33 and how her gold medal mindset helped her to stay positive, even during that scary time. "What you do today matters," she declared. "A gold medal is not won that day at the competition. It's won in the days leading up to the competition through your commitment and hard work." Miller left guests feeling empowered and motivated to succeed. "We were so honored to welcome Shannon Miller as our keynote speaker as we heard her story of hard work, perseverance, and having a gold-medal mindset through life," said Jennifer Porter, 2019-20 JLT President. "She truly inspired the audience that day and made our luncheon this year so special."