Merchant Info & Application
Applications are now available!
We are so excited to welcome merchants of all kinds from across the country this year! Please review the Frequently Asked Questions and the Merchant Application link!  Applications submitted without the $25 application will be considered incomplete until the payment is received.
Please email us at holidaymarketmerchants@jltulsa.org with questions.
Frequently Asked Questions:
What are the types of booths available?  There are 10×10 spaces available inside the facilities at the Union Multipurpose Activity Center.  All booths have been priced at $400 per space.  Rental of multiple 10 x 10 spaces will result in a $25 discount off of each additional booth.  Returning merchants can lock in the 2017 price of $375.  We are again offering a mini-booth which consists of a skirted 8' table and two chairs.  These spaces are limited for rental by either companies whose goods are made in Oklahoma or good that are substantially handcrafted.  The rental for mini-booths is $200.   Electrical power is not available for the mini-booths and wi-fi access is not guaranteed.
Please see the attached map for a visual.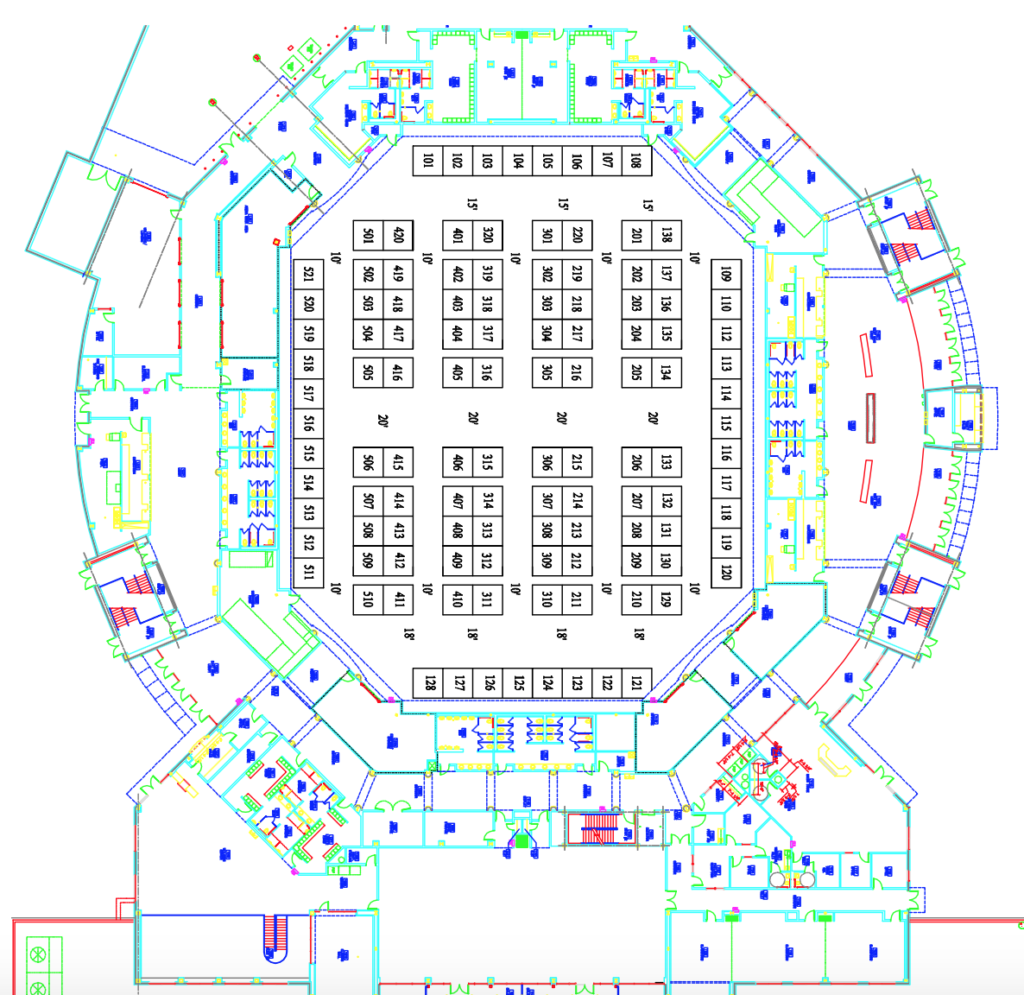 I don't have a tax ID and the form has an asterisk by it. Is that a deal breaker?  No. Merchants without a tax ID can use their social security number.
Does JLT take a commission of sales? if so, how much is it?  JLT does not take any commissions of sales. The booth fee goes to JLT and helps support our community projects and training our volunteers.
Is there electricity to each booth?  Yes for the booths inside the Union Multipurpose Activity Center, electricity can be rented for $30. We recommend that you bring a 100' power cord if renting electric.  Mini booths do not have access to power.
Can I rent extra tables? What about extra badges?  You can rent additional tables and purchase additional badges for $10 each.  Mini-booths are not eligible to rent additional tables.
What's the application deadline?  At this time there is no deadline but booths are first come first serve.
What are the payment details/due date?  Merchant applications will be reviewed within one (1) week of receipt.  Once approved, the merchant will be sent the Merchant Agreement by email. The Agreement and the deposit are due within 30 days of receipt.  The remaining balance is due in full no later than 60 days after the payment of the deposit or by November 1, 2018, whichever is sooner.  If the balance due is not paid by November 1, 2018, there shall be a late fee of $100 per booth/display space(s) assessed against Merchant. All deposits and rental fees paid to JLT are non-refundable and fully earned when received.  Either full payment or deposit (half the booth fee) must be paid and a signed merchant agreement received before merchant is considered for placement on the floor map. Merchant fees must be paid in full no later than Friday, November 1, 2018.
Other info about set-up/tear-down:  We are again offering a VIP package that will allow you to move in early, will allow you to choose the general area of the floor plan you'll be placed in, two additional badges, power for your booth, two meals during Market, and name/logo featured on the Holiday Market merchant map. Shoppers who verify that they have visited all VIP Merchants on their map will be entered to win a grand prize valued at over $500.
The price for the VIP package is $150 and will cover the complete number of booths rented.
Are food/drinks provided?  There will be food trucks on site and you are welcome to bring in outside food and beverage this year.  The concession stand will not be open.  We will happily arrange group ordering again this year and we will communicate with you via email to share the ordering instructions.
Is there a recommended hotel? We have established a partnership with the Renaissance Tulsa Hotel & Convention Center located at 6808 S 107th E Ave, Tulsa, OK 74133.  The phone number to call for reservations is (918) 307-2600, or you may book online here.
How many tickets were sold last year?  About 3,900 three day tickets were sold last year.  Our volunteers counted 2,140 individual shoppers through the doors.  This did not count the chaperones accompanying performance groups, Union staff members, and our members.
Do I need to have my own insurance?  Yes, legally JLT cannot supply insurance so each merchant is required to have their own insurance. If you don't have it you can talk to your local agent to receive it.
If you need to purchase insurance, we recommend Act Insurance which offers Artist and Crafter's insurance by the show or on an annual basis.  For more information, visit their website at https://www.actinsurance.com.
Is there an extra charge for merchants who sell food/drink products?  No.  All food and drink products are sellable as long as they are non-alcoholic.
How do I pay for my booth after acceptance?  Click here to pay for your booth space.