Feeding Tulsa Families in Need
The Junior League of Tulsa's (JLT) partnership with the Community Food Bank of Eastern Oklahoma is working to make an immediate impact for Oklahomans facing food insecurity.  According to the Community Food Bank of Eastern Oklahoma, one in four Oklahoma children face food insecurity, and statewide, one in six adults do not know where their next meal is coming from.  
The JLT Food Bank Committee works with Hawthorne Elementary School and the Community Food Bank of Eastern Oklahoma to serve monthly community dinners at Hawthorne Elementary School events. Those include Literacy Nights, parent teacher conferences, monthly PTA Meetings, and other special events. The Tulsa Public School District said that 83% of its nea rly 40,000 students are economically disadvantaged. Every student at Hawthorne Elementary qualifies to receive free and reduced breakfast and lunch, meaning their family's income is considered at or below the poverty line.
The Food Bank prepares the meals for the events, and the JLT Food Bank Committee and its Chair, Allie Stites, help coordinate food transportation to the school. Allie says that she, "loves the opportunity to build relationships with our Hawthorne Elementary school students, families, teachers, and community members, given we serve monthly at the school, and get to be a part of the PTA meetings, special events, and parent-teacher conferences."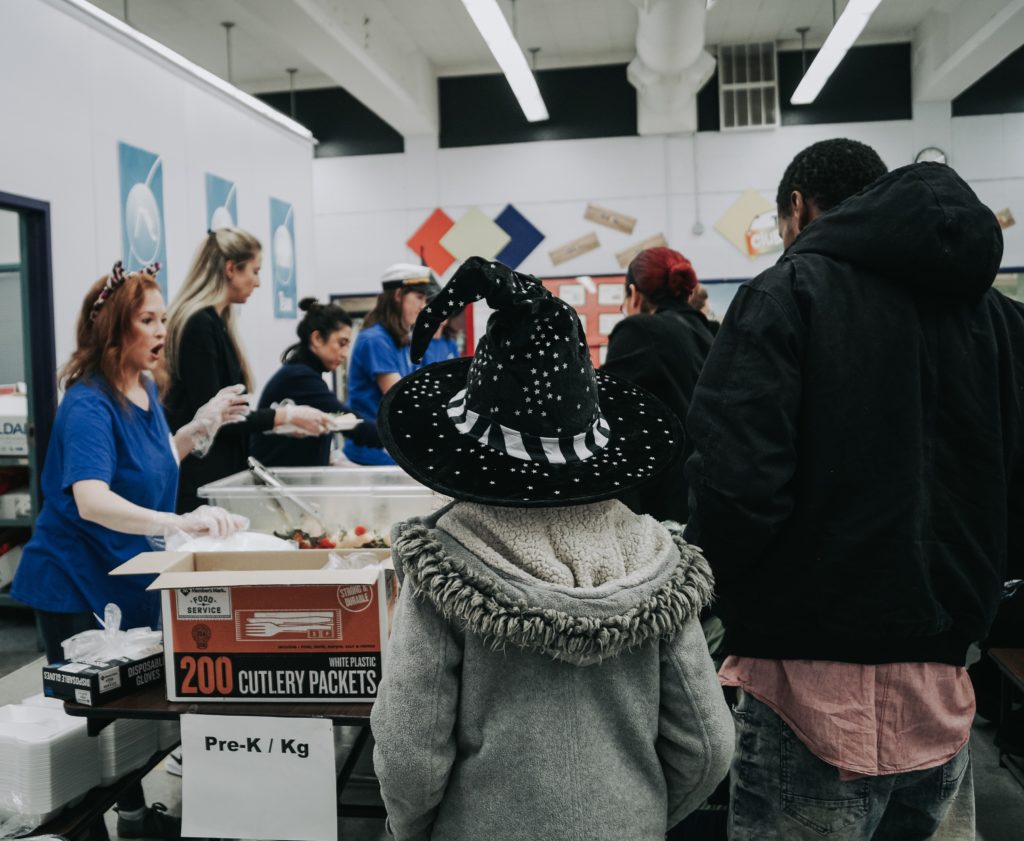 When asked about her favorite part of serving, committee member Sara Gomendi said, "The connection with the children and families in the community. It's such a blessing to bring joy to so many people by helping to provide a good meal, a smile, and conversation! One specific event I participated in entailed serving dinner to children and their parents at an evening literacy event at Hawthorne Elementary School. The Food Bank cooked a wonderful meal of lasagna, mixed vegetables, salad, rolls, and cake!  It was so fun to see children and adults try new foods like the brussels sprouts and enjoy dinner together in a group setting."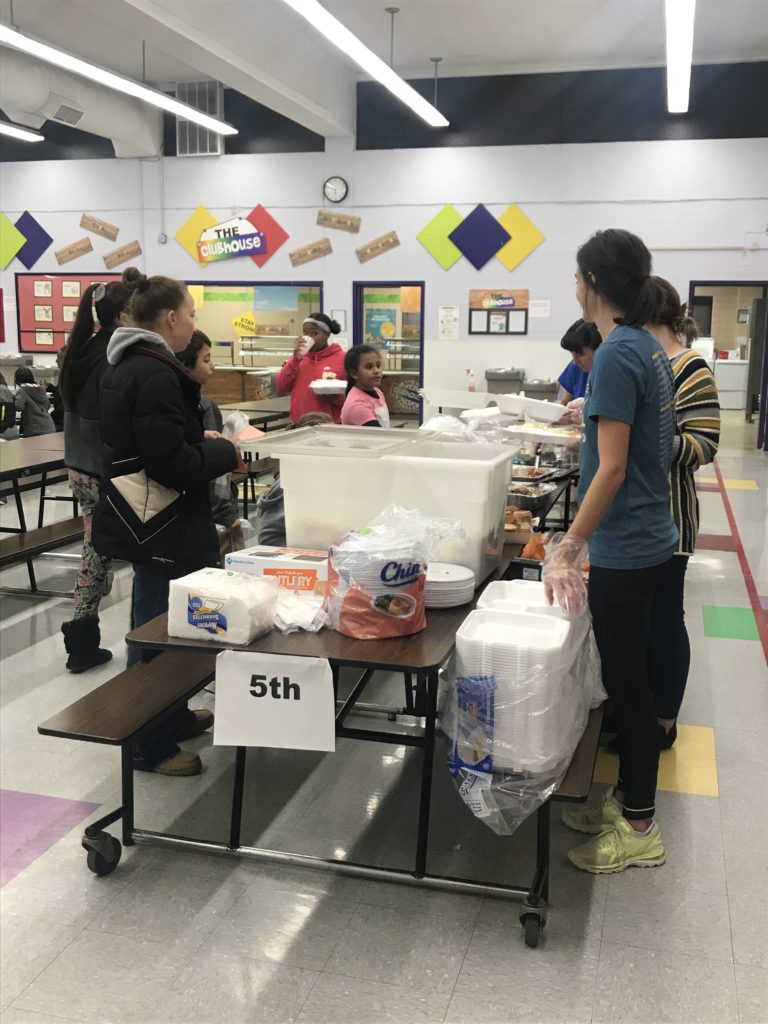 During the October community dinner, Hawthorne Elementary hosted its PTA Meeting, followed by an opportunity for students to trick-or-treat throughout the school. Students and their families attended, as costumed kids experienced the seasonal childhood tradition in a safe and warm environment. Hawthorne Elementary community partners, including JLT, donated bags of candy, small snacks, and toys for the kids. The donations filled the principal's office and helped to ensure everyone went home with lots of goodies.
The Community Food Bank provided the meal for the evening, which served more than a hundred people. Teachers and volunteers were stationed at classrooms, and students and families had fun going door-to-door. Committee member Amanda Therrell commented, "It was so fun seeing all the kids dressed up and excited to trick-or-treat from classroom to classroom. Our committee even joined in on the fun and dressed up to serve food to everyone. We had such a great time!" Therrell continued, "Of all the committees that I've been involved with through Junior League, the Community Food Bank Committee has been the most fulfilling."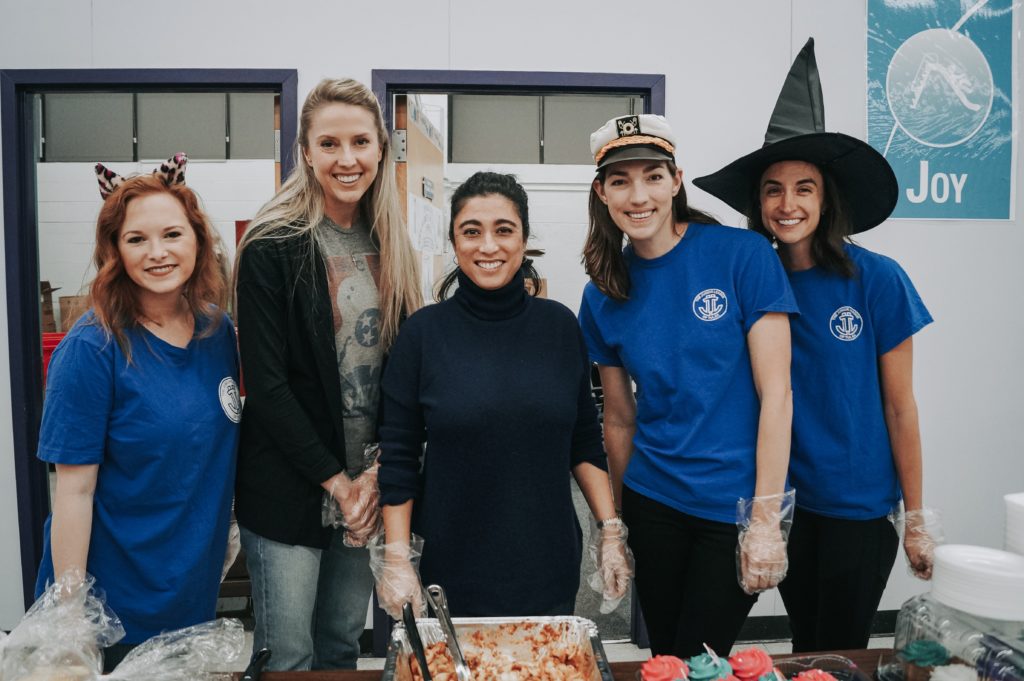 The mission of the Community Food Bank of Eastern Oklahoma is to feed the hungry through a network of partner agencies and to engage communities in ending food insecurity. The Food Bank is currently the largest private hunger-relief organization in eastern Oklahoma serving 360 partner agencies including food pantries, emergency shelters, soup kitchens, senior citizen centers, and after-school programs. Learn more about the Community Food Bank of Eastern Oklahoma at okfoodbank.org/.